royal_slider_gallery_8329-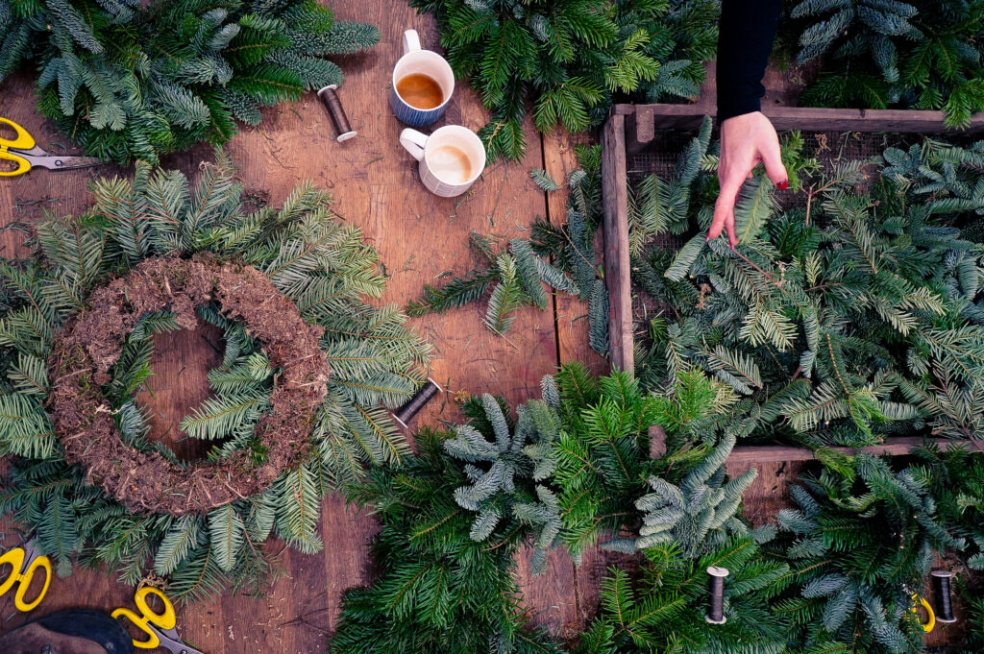 As the weather starts to turn chilly our thoughts are turning towards Christmas. It will certainly be different this year but we're feeling positive and so have come up with 3 ways to answer the question you always ask us, 'how do I make my own door wreath?!
As many of you will know, usually we host our wonderfully popular 'Wreath Making Workshops' in December. Always well attended and one of the highlights of our year. It's a great opportunity for us to spend time with you, have a glass of mulled wine, exchange stories, and, of course, create a fabulous Christmas door wreath too.
This year we've decided not to host these workshops due to the 'Rule of 6' and of course because we've moved to the Studio in St Helens. To be honest we're just not set up to welcome the public safely this year, which is why we've devised 3 alternative ways for you to get your Christmas Wreath jiggle on (so to speak!). We will miss seeing all of your faces but hope that these options prove to be exciting alternatives!
Here goes:
DIY Door Wreath Kit
How about gathering 5 friends or family members and making your own door wreath this year? I've put together a beautiful kit and filled it with carefully curated materials that will add some sparkle to both your door and your evening! This DIY Door Wreath Kit will include a moss wreath ring, a bundle of festive foliage, pine cones and eucalyptus, dried fruits and cinnamon sticks, your choice of ribbon and a scrumptious cake jar from our friends over at Frostbite Bakery. Cake AND a Christmas wreath. What's not to like?! I'll also provide a link to a video [include an instruction sheet] on how to make your wreath safely at home. This DIY Door Wreath Kit will retail at £35 + delivery. You can place your order here.
The Floral Boutique Door Wreath
This isn't the answer to how to make your own door wreath but it is a solution nonetheless! Don't make your own door wreath if health/time/safety are a concern. Talk to us and we'll make one for you! Place your order online and let us know what you're looking for; natural tones and hessian ribbon or a wreath with festive sparkle and red ribbon to match. Whatever takes your fancy we'll create the perfect wreath for your door and deliver it before your guests start to arrive.
Wreath Workshop at Albert Cottage, East Cowes
I'm excited to let you know that the luxury hotel Albert Cottage, Cowes, have asked me to help with their Christmas Wreath Workshops. This seemed like the perfect solution when we realised we couldn't safely hold them at the Studio. There are several dates from the end of November to December where you'll be welcomed to Albert Cottage with mulled wine and canapes, make your beautiful Christmas door wreath with me, and also get an exclusive voucher for 20% off either lunch or dinner at the hotel. The cost is £60 per person. For more information and to book please click here. I hope to see some of you there!
Love, Nic x
/opt/ft/core/content_blocks/bootstrap/CMSText/content.tpl.php